How Do You Repair Carpet Burns?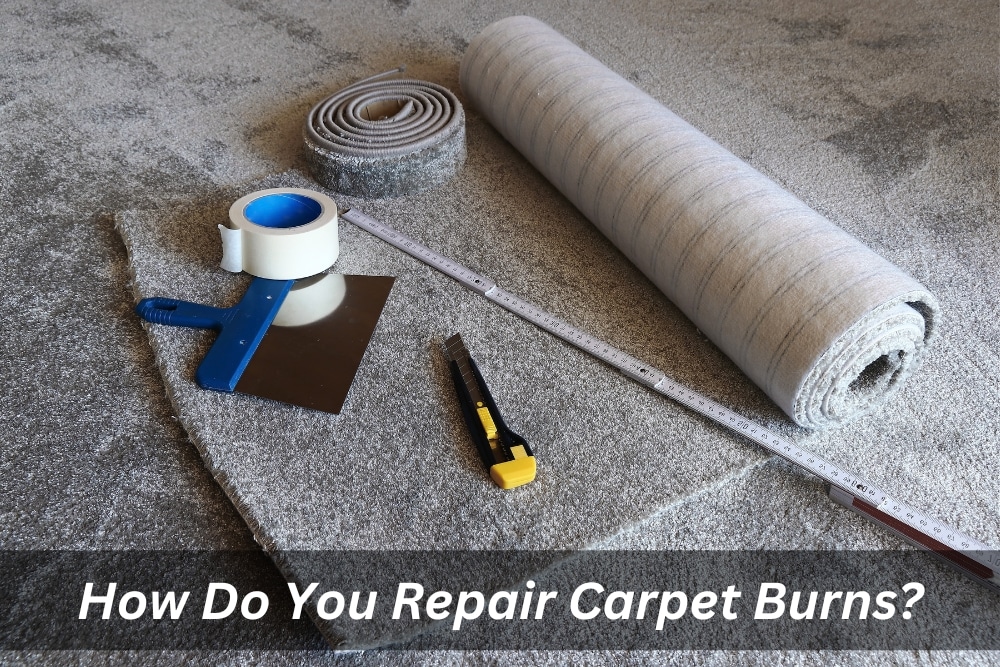 Are you frustrated with a burnt carpet and wondering how to repair it? Whether it's a cigarette burn or a carpet seam that's been damaged, repairing carpet burns is easier than you think. In this blog, we'll discuss the steps you can take to repair a carpet burn, including using scissors to cut away the damaged carpeting and how to remove a burn mark. So, let's get started and make your carpet look new again!
What are the causes of carpet burns?
Carpet burns can be caused by a variety of sources, including cigarettes, candles, hot irons, and other heat sources. Carpet burns usually occur when a hot object is placed directly on the carpet fibres, leading to discolouration and deterioration. While these marks may seem permanent, they can often be repaired without having to replace the entire carpet.
What DIY methods can be used to repair small carpet burns?
If you have a small burn on your carpet, you can often repair it with some basic DIY techniques. 
The first step is to remove the burnt piece of carpet or patch of carpet. Using a utility knife or scissors, carefully cut away the damaged area and discard it. 
Then, use a mild detergent and warm water to clean the area around the burnt patch. This will help remove any dirt or debris that could interfere with your repair job.
Once the area is clean, you can replace the burnt patch with a piece of carpet scrap that matches your existing flooring. To attach it securely, use a strong carpet adhesive and press firmly until dry. If necessary, trim away any excess material using scissors or a utility knife.
When should professionals be called for carpet burn repair?
For more extensive carpet burns, it's best to enlist the help of a professional repair service. If you have a large burn or an iron burn, these can be difficult to repair without assistance. Professional technicians are trained in effectively repairing burns and can match the colour of your existing carpeting as closely as possible. They also have access to special tools and techniques that can make the job much easier and faster. Additionally, a professional repair team will use strong adhesive products that are designed specifically for carpets, ensuring that your burnt patch is securely attached.
In conclusion, it's important to act quickly when dealing with a carpet burn. By taking immediate action and following our guide above, you can often repair minor burns yourself without having to replace the entire carpet. For more extensive damage, it's best to enlist the help of a professional repair team who can restore your carpeting to its former glory.
When is it necessary to replace carpet burns rather than repair them?
It's not always possible to repair carpet burns, and in some cases, it may be necessary to replace the affected area. This can occur when the burn is too large or too deep, or if the material around the burn has become severely damaged. If the colour of your carpet is significantly faded due to extensive burning, you may also need to replace it. Additionally, if the damage is located in an area that sees a lot of foot traffic or is prone to abrasions, then it's best to replace it rather than attempt a repair job. Overall, the decision to repair or replace a carpet burn should be based on its severity and location.
What are some tips for preventing carpet burns in the future?
To prevent future carpet burns, it's important to be proactive and take some simple steps. For example, make sure items that are prone to getting hot. Like irons and curling wands – are never left unattended, especially on carpeted surfaces. It's also a good idea to keep all candles away from the carpeted areas of your home. If you want to use them for decoration, place them on heat-safe trays or holders instead. Additionally, be mindful of where you place hot drinks or food items and don't rest them directly on the carpet. Finally, make sure any electronics that generate heat are kept off the floor as much as possible.
By properly cleaning and maintaining your carpet flooring, you can prevent future carpet burns and ensure that your carpets continue to look their best for years to come. Follow these tips to keep your carpets in top condition and avoid costly damage.
All in all, carpet burns can be easily repaired using a few simple DIY techniques or a professional repair service. To prevent future burns, make sure items that generate heat are kept off the floor and away from carpeted areas. With proper care, you can keep your carpets looking great for a long time!
Looking for quality carpet flooring installation services? Look no further than Cosy Group! Our team of experts specialises in providing top-notch carpet installation services that are guaranteed to meet your needs and exceed your expectations. And if you're dealing with carpet burns, we've got you covered too! Contact us today to learn more about our repair services and let us help you create the cozy home of your dreams!