Hybrid vs Laminate Flooring: Which Type of Floor is Best?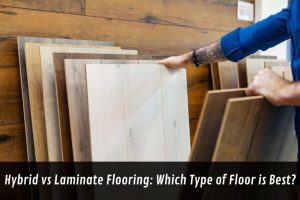 Whether you are a new home owner or are simply updating your current residence, one of the decisions you will face is what type of flooring to install. Two of the most popular options are hybrid and laminate flooring. Both have their pros and cons, so how do you decide which is right for you? In this blog post, we will take a look at the differences between hybrid vs laminate flooring: which type of floor is best, as well as some factors to consider when making your decision. We hope that after reading this post, you will be able to make an informed decision about which type of flooring is best for your home.
What is Hybrid Flooring?
Hybrid Flooring refers to any type of flooring material that is composed of two different materials that have been fused together. In some cases, these two materials may even be different species. This combination creates what is known as a micro texture, meaning that the entire surface of the floor is textured.
The most popular types of hybrid floors are concrete-wood, wood-concrete, plywood-concrete, and particleboard-concrete. Depending on the application and intended use, there are many different types of hybrid floors available today.
One of the best uses of hybrid floors is for commercial applications. These floors tend to be much stronger than standard vinyl flooring, making them ideal for warehouses, schools, hospitals, restaurants, retail stores and many other industries. 
One of the biggest advantages of using hybrid floors is their longevity. Because they do not degrade over time, they last significantly longer than traditional hardwoods or carpeting. Additionally, if a fire breaks out, they are less likely to catch flame than other materials. That being said, there are some downsides to these floors. 
One of the big issues is the cost, since they require specialised equipment and skilled installers. Another issue is that they can sometimes be difficult to clean. If you need to remove stains from your floor, or want to keep it cleaner at home, then it might be time to consider a vinyl replacement.
What is Laminate Flooring?
Laminate flooring is widely used in residential and commercial floors throughout the world. Its popularity is due to its high durability, ease of installation, attractive appearance, and low cost compared to hardwood, tile, stone, and other traditional flooring materials. Laminate flooring consists of several layers of different materials bonded together using heat and pressure to create a durable surface that resists scratches and stains.
1. Surface layer
The first layer of laminate flooring is called the surface layer. It comprises a thin veneer sheet of wood fibre impregnated with resin. The surface layer provides a smooth, appealing look to the floor while offering protection against moisture damage.
2. Core layer
A second layer of laminate floor is known as the core layer. This core layer is composed of a dense collection of fibres that provide stability and rigidity to the board. In addition, the core layer helps to hide small imperfections in the surface layer.
3. Bonding layer
The third layer is known as the bonding layer. It is placed directly under the surface layer to help protect it from scratches and moisture. The bonding layer is made up of a special material that holds the entire laminate flooring board together.
4. Underlayment
An underlayment serves two purposes. First, it ensures proper drainage. Second, it provides some extra stability for the floor. A quality underlayment should have no gaps between the subfloor and the top edge of the floor. If a gap exists, water may seep underneath the floor and cause mould and mildew problems. Most underlayments are made of cork, rubber, or plastic.
5. Adhesives
Adhesive tape is used to ensure that the various components of the floor stay attached once they're installed. Adhesive tapes vary in thickness and width, and are often colored to match the colour of the floor.
They are also available in different formulations to resist water or moisture.
Main types of Laminate flooring
There are two main types of laminate flooring: floating floors and glue down floors. Floating floors are not attached to the subfloor, while glue down floors are. Glue Down floors require the use of an adhesive, while floating floors do not.
Floating floors 
are installed by clicking the boards together. The boards must be placed parallel to each other and at least six inches apart. Once the boards are in place, a trim piece is placed around the perimeter of the room. The trim hides the expansion gap and provides a finished look.
Glue Down floors
Glue Down floors are attached to the subfloor with an adhesive. The adhesive can be applied to the subfloor with a trowel or roller. Once the adhesive is in place, the boards are laid down and allowed to dry. After the adhesive has dried, a trim piece is placed around the perimeter of the room.
Laminate flooring can be installed over almost any type of existing flooring, including concrete, wood, vinyl, and linoleum. However, it is important to make sure that the floor is level before installation begins. Uneven floors can cause problems with the installation process and may result in an uneven finished product.
Difference between
Laminate flooring and hybrid flooring
Laminate flooring is made of multiple layers of compressed wood, with a printed decorative layer on top. Hybrid flooring is made of multiple layers of vinyl and cork, with a decorative layer on top. Both types of flooring are designed to look like wood floors, but there are some key differences between the two.
Hybrid flooring is 100% water resistant and scratch resistant than laminate flooring. Laminate planks can be damaged by water, and the wear layer can be scratched or worn away over time.
It is also more durable than laminate flooring, and it can withstand more wear and tear. Hybrid flooring offers the same pros and cons as laminate flooring, but it is a more durable and water resistant option.
When choosing a floor type, it is important to consider the amount of foot traffic in your home. Laminate floors are not recommended for homes with pets or children, because they can be scratched and damaged easily. Hybrid floors are a better option for homes with pets or children, because they are more durable and waterproof.
Floating floors are another option to consider when choosing a floor type. Floating floors are easy to clean and maintain, and they can be installed over any type of subfloor. Hybrid floors and laminate floors can also be installed as floating floors.
When it comes to deciding between hybrid and laminate flooring, it is important to consider your needs and the needs of your home. Hybrid flooring is more durable and water resistant than laminate flooring, but it is also more expensive. Laminate flooring is less expensive than hybrid flooring, but it is not as durable or water resistant.
The bottom line is that both hybrid and laminate floors have their pros and cons. The best flooring option for your home will depend on your specific needs and preferences. Whichever type of flooring you choose, be sure to follow the manufacturer's instructions for installation and care. Hybrid and laminate floors are easy to clean and maintain, but they still require some special care to keep them looking their best.