Enhancing Room Serenity: The Impact Of Acoustic Carpet Tiles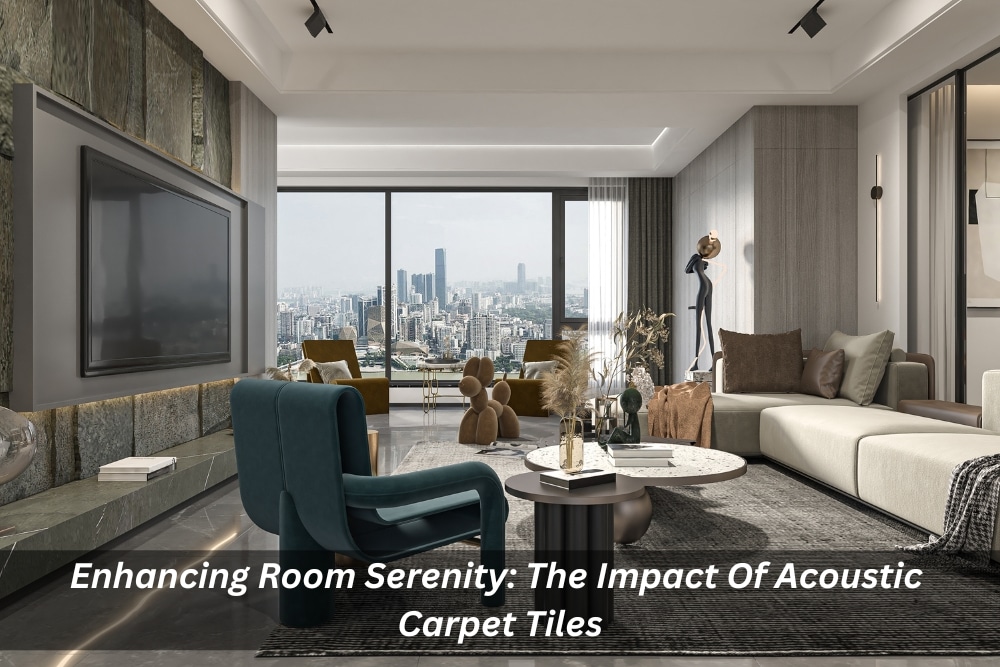 When it comes to creating a tranquil and comfortable living or working environment, the significance of acoustics cannot be underestimated. Unwanted noise and echoes can easily disrupt the peace of a room, making it challenging to focus, relax, or engage in conversations. This is where acoustic carpet tiles step in as a remarkable solution. In this article, we will delve into the world of acoustic carpet tiles and explore how they can truly transform a space, enhancing room serenity and improving the overall ambience.
What Are Acoustic Carpet Tiles?
Acoustic carpet tiles are an innovative and versatile solution designed to address acoustic challenges in various settings. These tiles are not just your regular carpeting option; they are engineered to absorb sound waves and reduce noise levels significantly. By incorporating sound-absorbing materials into their construction, these tiles effectively minimise the transmission of sound, helping to create a quieter and more serene environment.
The Impact of Acoustic Carpet Tiles on Room Serenity
One of the most notable benefits of acoustic carpet tiles is their ability to reduce noise pollution. Whether it's the clatter of footsteps, the hum of electronic equipment, or the echoes of conversations, these tiles have the power to absorb and dampen these sounds, resulting in a more peaceful room ambience.
Improved Concentration and Focus: 
In environments where concentration is crucial, such as offices, libraries, and study areas, acoustic comfort plays a pivotal role. By installing these carpet tiles, you can create an atmosphere where individuals can focus without being constantly disrupted by external noise distractions.
In residential settings, such as bedrooms, living rooms, and entertainment spaces, relaxation is key. These tiles contribute to a serene environment where you can unwind and enjoy quiet moments without the intrusion of external noises.
Versatility and Aesthetic Appeal
Acoustic carpet tiles come in a wide range of designs, patterns, and colours, offering immense flexibility in terms of interior design. Whether you're aiming for a modern, minimalist look or a cozy and rustic feel, you can find acoustic carpet tiles that align with your vision.
The installation process of acoustic carpet tiles is hassle-free and efficient. These tiles are designed for easy installation, often featuring a user-friendly interlocking system. This means that you don't need to be an expert to achieve a professional-looking result.
Beyond their acoustic properties, these tiles can be used as a form of functional artistry. You can create intricate patterns and visual interest on the floor, adding an extra layer of aesthetic appeal to your space.
Applications of Acoustic Carpet Tiles in Different Settings
Educational Institutions: 
Schools and universities can greatly benefit from the installation of acoustic carpet tiles. They create optimal learning environments where teachers can communicate clearly, and students can absorb information without constant interruptions.
In bustling office environments, where multiple conversations and activities are happening simultaneously, maintaining a productive atmosphere can be challenging. These tiles help control noise levels, promoting better communication and focus among employees.
Hospitals and clinics require areas of tranquillity where patients can rest and heal without unnecessary disturbances. These tiles contribute to a peaceful healthcare environment, aiding in the recovery process.
Installation and Maintenance
Simple Installation Process: 
Installing acoustic carpet tiles is a straightforward process that involves minimal disruption. Whether you're covering a small room or a larger area, the interlocking system ensures a secure fit without the need for complicated adhesives.
These tiles are designed for easy maintenance, making them a practical choice for high-traffic areas. Regular vacuuming and occasional spot cleaning are usually sufficient to keep them looking their best.
Longevity and Durability: 
These tiles are built to last. They are constructed from durable materials that can withstand the rigours of daily use while retaining their acoustic properties over time.
The Role of Professional Carpet Installation
While the benefits of acoustic carpet tiles are undeniable, their effectiveness hinges on proper installation. This is where the expertise of professional carpet installation services comes into play. Here's why opting for professional installation is a prudent decision:
The installation of acoustic carpet tiles demands precision to ensure complete coverage of the floor and a seamless finish. Professionals possess the necessary experience to handle intricate patterns and ensure flawless installation.
Optimal Underlay Placement: 
The choice and placement of underlay or padding play a pivotal role in enhancing sound insulation. Professionals are well-versed in selecting the right type of underlay and installing it accurately.
Minimised Risk of Issues: 
Professional installers are trained to anticipate and preempt potential installation issues, such as wrinkles, gaps, or uneven tiles. This foresight prevents problems before they arise.
Time and Cost Efficiency: 
Although attempting a DIY installation might appear to be a way to cut costs, it frequently results in expensive errors. Professionals, on the other hand, operate with efficiency, ultimately saving you valuable time and money. Moreover, they can also offer valuable tips to keep in mind when purchasing carpet tiles, ensuring a smoother process overall.
Conclusion
To sum up, it's crucial to emphasize the significant influence that acoustic carpet tiles have on enhancing room serenity. These cutting-edge flooring solutions seamlessly combine style with functionality, elevating your space's atmosphere while efficiently reducing noise pollution. It's worth noting that failure to address noise concerns can result in decreased productivity, concentration challenges, and a dearth of tranquil moments. To ensure the best outcomes, considering professional carpet installation is a prudent step.
Discover the perfect harmony of aesthetics and tranquillity with Cosy Group's carpet tiles for sale. Uniting innovative design with sound-absorbing technology, our tiles redefine room serenity. From offices to educational spaces and healthcare facilities, these tiles create an oasis of calm. Our wide range of designs ensures seamless integration into your vision, while hassle-free installation guarantees a professional finish. We provide assistance every step of the way, from selecting the right tiles to ensuring optimal underlay placement. Don't miss out on the transformative power of our acoustic carpet tiles – get in touch with us today and let serenity become your reality.