Which Carpet Tiles Are Best For A Pet Friendly Home?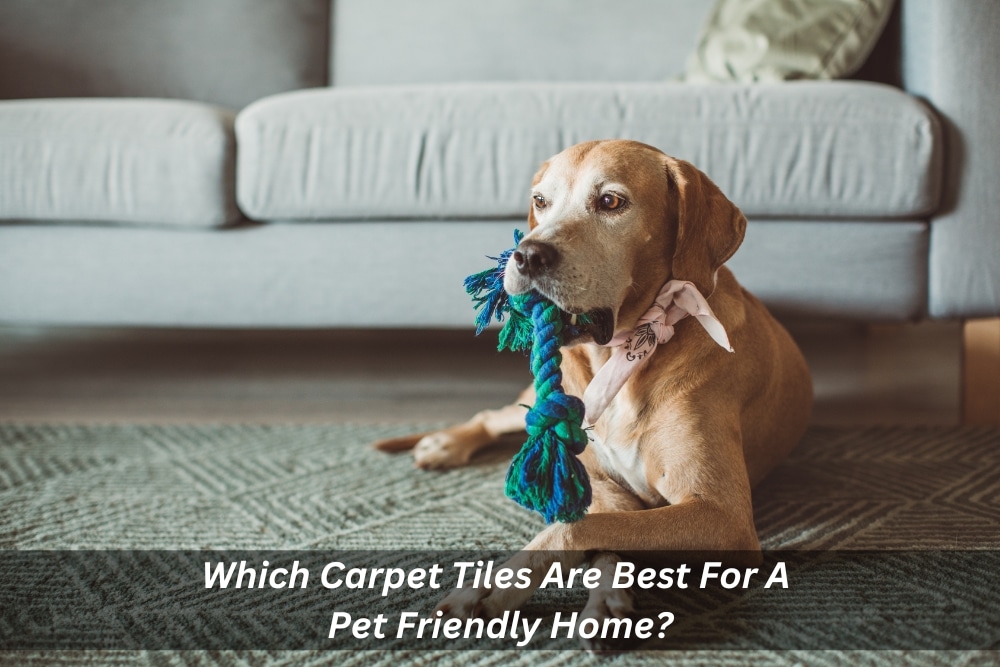 Selecting the ideal carpet tiles for a pet-friendly home involves a careful balance between aesthetics, durability, and maintenance. With the growing popularity of commercial carpet tiles, homeowners are presented with a wide array of options that cater to both style and practicality. In this comprehensive guide, we will delve deeper into various aspects of carpet tiles. Also, their benefits, considerations for pet owners, and the advantages of professional installation. Whether you're looking for the cheapest carpet tiles or seeking the most suitable carpet tiles for your bedroom, we've got you covered with valuable insights and information.
What are the Benefits of Carpet Tiles in Pet Friendly Homes
Commercial carpet tiles are engineered to endure heavy foot traffic, making them an excellent choice for pet-friendly households. These tiles are crafted from high-quality materials such as nylon or polyester, ensuring their ability to withstand the playful antics of pets without showing premature signs of wear and tear. Whether your pet enjoys romping around or you have a more relaxed companion, carpet tiles are designed to stand up to their activities.
Easy maintenance and spill resistance
One of the standout advantages of carpet tiles is their easy maintenance. In a home with pets, accidents are bound to happen, but with carpet tiles, you have the advantage of quick and targeted cleaning. If a pet-related mishap occurs, you can replace individual tiles rather than having to replace an entire carpet. Many carpet tiles also come treated with stain-resistant coatings, making cleanup after spills effortless and worry-free.
Aesthetically pleasing variety
Carpet tiles offer an extensive range of colours, patterns, and textures. It gives homeowners the creative freedom to choose options that seamlessly match their interior décor. This diversity is particularly advantageous for those seeking to create a cozy environment in the bedroom while accommodating their pets' practical needs. From subtle neutrals to bold designs, carpet tiles can cater to a variety of design preferences.
What are the considerations for pet owners when using carpet tiles in pet friendly homes?
Stain and odour resistance
When choosing carpets for a pet-friendly home, it is important to prioritize options that have advanced stain and odour-resistant features. These specific types of carpets are the easiest to clean and ensure that any accidental spills or incidents caused by pets can be quickly and effectively addressed without leaving unsightly marks or lingering odours. This is crucial for maintaining a clean and fresh indoor environment.
Texture and traction for safety
The texture of carpet tiles plays a pivotal role in providing adequate traction for both pets and humans. By choosing tiles with a textured surface, you can create a safer environment, minimising the risk of slips and falls. This consideration is especially important in areas where your pets frequently roam and play.
Allergen control and indoor air quality
For pet owners concerned about allergens and indoor air quality, certain carpet tiles are specifically designed to capture allergens and dust particles. This feature contributes to improved indoor air quality by reducing the spread of pet dander and hair throughout the home. As a result, both you and your pets can enjoy a healthier living space.
Noise reduction and comfort
Pets can generate noise, particularly on hard flooring surfaces. Carpet tiles possess inherent noise-dampening properties that help minimise the sound of pet paws and claws, creating a quieter and more comfortable living environment. This feature is especially beneficial in bedrooms, providing a tranquil atmosphere conducive to restful sleep.
Advantages of Professional Carpet Tile Installation
Precise and even installation
Professional installation guarantees that carpet tiles are laid evenly and with precision, enhancing the overall aesthetic appeal of your flooring. In spaces like bedrooms, where visual uniformity contributes to the ambience, professional installation ensures a polished and cohesive look.
Enhanced durability and longevity
The expertise of professional installers ensures that your carpet tiles are installed correctly, maximizing their durability and extending their lifespan. Proper installation prevents premature wear and damage, ultimately saving you from the hassle of frequent replacements.
Professional installers can offer valuable guidance on creating custom patterns and designs using various carpet tile options. This level of customisation allows you to infuse your personal style into your space while maintaining the pet-friendly aspect of your flooring.
Efficient removal and replacement
Over time, specific tiles may need replacement due to wear or damage. Professional installers possess the skills to swiftly remove and replace individual tiles without causing disruption to the rest of the flooring. This targeted approach ensures that your carpet remains both functional and visually appealing.
Conclusion
In general, when selecting carpet tiles for a pet-friendly home, it is crucial to carefully evaluate durability, maintenance, and aesthetics. Considering factors like texture, traction, and allergen control is important to make an informed decision. Commercial carpet tiles tailored for pet-friendly homes offer a wide range of benefits. These tiles are specifically designed to resist stains and odours, reduce noise, and maximise durability and longevity. However, it is important to keep in mind certain considerations such as cost, limited heat insulation, potential for uneven wear, and installation complexity. Carpet tiles may not be ideal for all areas and may require professional installation for optimum results. By choosing the right carpet tiles and availing of professional installation, you can create a stylish and pet-friendly environment that aligns with your aesthetic preferences while providing comfort for your pets.
Remember, the benefits of using carpet tiles for your flooring are all about balancing the needs of a pet-friendly home – creating a space that is welcoming, comfortable, and easy to maintain for both you and your furry companions. Carpet tiles provide a practical solution that combines functionality and style, ensuring a harmonious living environment for everyone in your household.
For the ultimate fusion of style, durability, and pet-friendly practicality in your home, Cosy Group is your trusted partner. Moreover, our diverse selection of commercial carpet tiles offers a comprehensive solution for homeowners seeking the perfect balance between aesthetics and functionality. From stain resistance to allergen control, we've got you covered. So, experience the difference that thoughtful carpet tile selection and expert installation can make. Elevate your pet-friendly haven to a whole new level of comfort and sophistication with Cosy Group. Contact us today to embark on a journey of transformative interior design.