How To Prevent And Manage Curling In Wool Carpet Tiles?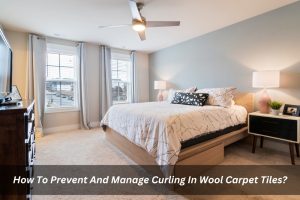 Wool carpet tiles are a fantastic flooring option. They offer warmth, comfort, and a touch of elegance to any space. However, like any other flooring material, wool carpet tiles are not immune to issues, and one common problem that can arise is curling. If you're dealing with curling wool carpet tiles or want to prevent this issue from happening in the first place, you've come to the right place. In this guide, we'll explore the causes of curling in wool carpet tiles, ways to prevent it, and steps to manage the issue if it has already occurred.
What causes wool carpet tiles to curl?
Understanding the root causes of curling in wool carpet tiles is essential to preventing and managing the problem effectively. Several factors contribute to this issue:
Poor installation:

One of the leading causes of curling in wool carpet tiles is improper installation. If the tiles are not laid down correctly, with insufficient adhesive or uneven pressure, they are more likely to curl at the edges or seams.

Moisture:

Excessive moisture can wreak havoc on carpet tiles. When exposed to moisture, wool fibres tend to expand, causing the tiles to curl. This is particularly common in areas prone to high humidity or frequent spills.

Aging:

Over time, even well-installed wool carpet tiles can naturally start to curl. This is often due to the normal wear and tear associated with foot traffic and furniture movement.

Subfloor issues:

An uneven or damaged subfloor can also contribute to carpet tile curling. If the subfloor is not properly prepared before installation, it can cause the tiles to lift at the edges.
How can you prevent them from curling?
Prevention is the key to avoiding the frustration and expense of dealing with curling wool carpet tiles. Here are some steps you can take to keep your carpet tiles in pristine condition:
Professional installation: Invest in professional installation services

to ensure your carpet tiles are

laid down correctly

. Experienced installers will use the right adhesives and techniques to prevent curling.

Moisture management:

In areas prone to moisture, use a moisture barrier underlay or consider dehumidifiers to maintain the ideal indoor humidity level. Promptly clean up spills to prevent water from seeping into the carpet tiles.

Proper maintenance:

Regularly vacuum and clean your carpet tiles to prevent the buildup of dirt and debris. This not only maintains the appearance but also

extends the life of your flooring

.

Furniture pads:

To prevent heavy furniture from causing curling at the edges of your carpet tiles, use furniture pads or casters. These will distribute the weight more evenly and reduce the

chances of damage

.

Monitor subfloor:

Periodically check the condition of your subfloor. If you notice any unevenness or damage, address it promptly before it affects the carpet tiles.
What can you do if your carpet tiles have already curled?
If you've already noticed curling in your wool carpet tiles, don't worry; there are steps you can take to manage the issue:
Heat treatment:

Gently apply heat to the curled edges using a hot iron or a hairdryer on a low setting. Be cautious not to overheat, as this can damage the wool. The heat should soften the adhesive, allowing you to reposition and press down the curled area.

Weighted objects:

Place heavy books, weights, or flat objects on the curled areas after applying heat. This will help the carpet tiles regain their flat shape as they cool down.

Re-gluing:

If the curling is severe or persists after heat treatment, you may need to re-glue the affected tiles. Lift the curled portion, apply a suitable carpet adhesive to both the tile and the subfloor, and then press the tile back into place.

Consult a Professional:

If you are unsure about managing the curling issue or it is extensive, consider consulting a professional carpet installer or repair specialist. They can assess the situation and provide expert guidance.
How can you maintain your wool carpet tiles to prevent them from curling?
Maintaining your carpet tiles is an ongoing process that can significantly contribute to their longevity and prevent issues like curling. Here are some maintenance tips:
Regular cleaning:

Vacuum your carpet tiles regularly to remove dirt and dust that can accumulate and cause damage over time. Use a vacuum cleaner with adjustable height settings to ensure it doesn't damage the fibres.

Spot cleaning:

Address spills and stains promptly by gently blotting the affected area with a clean cloth and an appropriate carpet cleaner. Refrain from rubbing, as this may force the stain deeper into the carpet fibres.

Rotate furniture:

To distribute weight and prevent permanent indentations, periodically rearrange your furniture. This will also help prevent curling around the edges of heavy items.

Protect high-traffic areas:

You can enhance your floor's durability by incorporating rugs or carpet runners in high-traffic areas, as

carpet tiles make your floor superior

and can help reduce wear and tear.

Professional cleaning:

Schedule professional deep cleaning for your wool carpet tiles every 12-18 months. This will help remove embedded dirt and allergens, keeping your carpet tiles looking and performing their best.
Conclusion
Wool carpet tiles are a beautiful and functional choice for your flooring needs, but like any investment, they require proper care and maintenance to ensure their longevity and appearance. Preventing and managing curling in wool carpet tiles is possible with the right precautions and maintenance routines. By following the tips outlined in this guide, you can enjoy the warmth and elegance of your carpet tiles for years to come, free from the frustration of curling issues. Remember that professional installation and periodic maintenance are the keys to keeping your carpet tiles in top condition, so don't hesitate to seek expert assistance when needed. Your beautifully laid wool carpet tiles can continue to adorn your space with comfort and style when cared for properly.
Transform your space with the timeless elegance of wool carpet tiles, and ensure they stay beautiful for years to come with Cosy Group. Whether you're looking to prevent curling issues before they arise or seeking professional solutions for managing existing problems, our team of experts is here to help. From flawless installation to expert maintenance, we've got you covered every step of the way. Don't let curling carpet tiles dampen your decor – choose Cosy Group and enjoy the warmth, comfort, and style that wool carpet tiles bring to your home or office. Contact us today and take action to elevate your space with the best flooring solutions from Cosy Group.