Why Does Carpet Padding Matter?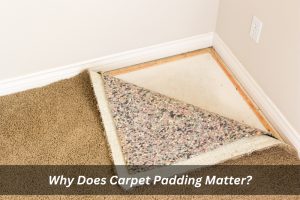 If you've ever had the pleasure of choosing a new carpet for your home, you might be familiar with the importance of selecting the perfect colour, texture, and style. However, there's another crucial aspect of carpet installation that often goes overlooked: carpet padding. In this article, we'll explore the world of carpet padding, from what it is and why it matters to the different types available, how to choose the right one, and whether it's worth the investment.
What exactly is carpet padding?
Carpet padding, often referred to as carpet underlay, is a layer of material that is placed between your carpet and the subfloor. While it's typically unseen, it plays a vital role in the overall comfort, durability, and longevity of your carpet. Think of it as the unsung hero beneath your feet.
The primary purpose of carpet padding is to provide cushioning and support for your carpet. It acts as a shock absorber, reducing the wear and tear on your carpet, making it feel more comfortable to walk on, and extending its lifespan.
What is the significance of carpet padding?
So, why does carpet padding matter? Here are some key reasons:
Comfort:

One of the most immediate benefits of carpet padding is the added comfort it brings to your space. When you walk on a carpet with proper padding, it feels soft and plush underfoot. It provides a cushioned surface that can make a significant difference in the overall comfort of your home.

Durability:

Carpet padding acts as a buffer between your carpet and the hard subfloor. It absorbs the impact of foot traffic and heavy furniture, reducing the stress on your carpet fibres. This added layer of protection can significantly extend the life of your carpet.

Sound insulation:

Carpet padding also has excellent sound-absorbing qualities. It helps dampen noise from footfalls and other activities, making your home quieter and more peaceful. This is especially valuable if you live in a multi-story building or have a busy household.

Insulation:

Carpet padding can provide an extra layer of insulation, helping to keep your home warmer in the winter and cooler in the summer. This can result in energy savings by reducing the need for heating and cooling.
What are the different types of carpet underlay?
Carpet padding comes in various types, each with its unique characteristics and advantages. Here are some of the most common types of carpet underlay:
Foam Padding:

Foam padding stands out as a favoured and cost-effective choice. It comes in a range of thicknesses and densities, offering various degrees of cushioning. Installing foam padding is a straightforward process, and it results in a comfortable walking surface. Additionally, if you're looking for the

best way to install carpet over tile

, this option is worth considering.

Rubber Padding:

Rubber padding is known for its exceptional durability and resilience. It can withstand heavy foot traffic and maintains its cushioning properties over time. Rubber padding is an excellent choice for high-traffic areas.

Felt Padding:

Felt padding, often made from recycled materials, is an environmentally friendly option. It offers good insulation and cushioning properties. Felt padding is a sustainable choice that provides both comfort and durability.

Waffle Rubber Padding:

Waffle rubber padding, as the name suggests, has a waffle-like texture. This design allows for more air circulation, making it a great choice for moisture-prone areas, as it helps prevent mould and mildew growth.

Memory Foam Padding:

Memory foam padding is the epitome of luxury and comfort. It conforms to the shape of your feet and provides exceptional cushioning. While it tends to be more expensive, it's an excellent choice for bedrooms and areas where comfort is a top priority.
How to choose the right carpet underlayment
Selecting the right carpet underlayment is crucial to ensuring that you get the most out of your carpet. Here are some factors to consider when choosing the right underlay for your needs:
Carpet type:

The type of carpet you have or plan to install should influence your choice of underlay. For example, thicker carpets may benefit from a thinner underlay, while thinner carpets may require a thicker, more supportive underlay.

Budget:

Your budget is a significant factor in your decision. While premium underlays like memory foam offer exceptional comfort, they come at a higher cost. Determine your budget and look for options that provide the best balance of comfort, durability, and affordability.

This consideration is particularly important when

choosing the right flooring for your project

.

Usage:

Take into account the location where the carpet will be installed. High-traffic areas might necessitate more durable padding, especially if you want to avoid

frequent carpet replacement

.

Moisture and allergies:

If you're installing carpet in a moisture-prone area or have allergies, it's essential to choose an underlay that is moisture-resistant and hypoallergenic.

Installation:

Some types of underlay are easier to install than others. If you plan to install the underlay yourself, consider the ease of installation and whether it requires professional assistance.
How to install carpet underlayment
Once you've selected the right carpet underlay for your needs, it's time to install it. Here's a basic guide to help you get started:
Prepare the subfloor:

Ensure that the subfloor is clean, dry, and free of debris. Any imperfections in the subfloor should be addressed before installing the underlay.

Unroll the Underlay:

Roll out the underlay across the room, making sure it covers the entire floor area. Trim any excess underlay using a utility knife.

Seam sealing:

If your room is larger than the width of the underlay roll, you may need to join multiple pieces. Use seam tape or adhesive to secure the seams, ensuring a smooth and seamless underlay surface.

Secure the underlay:

Fasten the underlay to the subfloor using staples or adhesive, depending on the type of underlay and your subfloor material. Ensure it is secure and smooth.

Trim around obstacles:

Cut the underlay to fit around any obstacles like door frames or vents. Make precise cuts to ensure a snug fit.

Double-check:

Walk on the underlay to check for any lumps or imperfections. Make adjustments as necessary to achieve a smooth surface.

Install the carpet:

Once the underlay is properly in place, you can proceed with the installation of your carpet on top of it.
How much does carpet padding cost?
The cost of carpet padding can vary depending on several factors, including the specific type of underlay you choose, its thickness, and the size of the area you plan to cover. Various options are available, ranging from more budget-friendly foam padding to premium choices like memory foam, each with its distinct price points. To get a better idea of the expenses involved, it's advisable to consult with a reputable carpet flooring supplier or an installer. They can provide you with an estimate based on your unique requirements and the type of underlay that best suits your needs.
Conclusion
In summary, carpet padding is not just an optional add-on; it's an essential component that can significantly enhance the comfort, durability, and energy efficiency of your carpeted floors. By understanding the different types of carpet underlay, considering your specific needs, and ensuring proper installation, you can make an informed decision that will benefit your home for years to come. So, the next time you're shopping for a new carpet, remember the crucial role that quality carpet padding plays in the overall performance and longevity of your flooring investment.
Transform your home into a haven of comfort with Cosy Group! Just like the importance of choosing the right carpet padding to enhance the comfort and durability of your floors, we at Cosy Group are dedicated to optimising your entire living space. Explore our range of products and services, and let us help you create a home that's not only beautiful but also incredibly comfortable. Say goodbye to the ordinary and hello to extraordinary coziness with Cosy Group – your partner in creating the ultimate sanctuary within your home. Get in touch with us today to start your journey towards a cosier, more inviting home!