Is It Possible To Eliminate Pet Odours From Carpets?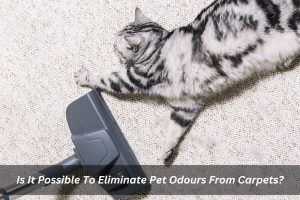 Living with pets brings joy and companionship, but it also presents challenges, particularly when it comes to dealing with lingering pet odours in carpets. Whether it's the aftermath of an accident or the accumulation of everyday pet living, the battle against unpleasant smells can be a daunting task. In this comprehensive exploration, we'll delve into the causes of pet odours in carpets, understand why it's essential to eliminate them, explore effective methods for carpet odour removal, and discuss when it might be time to consider replacing your carpets.
What causes pet odours in carpets?
Understanding the root causes of pet odours is the first step in successfully eliminating them. When accidents happen on carpets, the porous nature of the fabric allows it to absorb and trap odours. Additionally, the combination of pet dander, hair, and saliva can contribute to a gradual build-up of unpleasant smells over time. Bacteria find a comfortable home in these environments, exacerbating the odour issue. Recognising these contributing factors is essential for devising an effective odour-removal strategy.
Why should you remove pet odours from carpets?
Beyond the obvious discomfort of living with unpleasant smells, there are compelling reasons to prioritise the removal of pet odours from carpets. Firstly, these odours can be stubborn and persistent, impacting the overall indoor air quality of your home. Furthermore, if left untreated, pet odours can become a breeding ground for bacteria, potentially posing health risks to both pets and humans.
Ensuring a clean and fresh environment transcends mere aesthetics; it's about cultivating a healthy space for everyone in the household. The repercussions of not cleaning your carpets extend beyond surface-level concerns. Taking proactive measures to remove pet odours from carpets is not just a cosmetic consideration; it's a vital step towards safeguarding the well-being of your family and pets, mitigating the potential consequences of neglecting carpet hygiene.
What is the most effective method for carpet odour removal in eliminating set-in pet stains and odours?
When faced with set-in pet stains and odours, choosing the right method is paramount. One highly effective approach involves using a combination of baking soda and white vinegar. Begin by blotting the affected area with a paper towel to remove excess moisture. Subsequently, generously sprinkle baking soda over the stain, followed by a mixture of white vinegar and water.
The chemical reaction between the baking soda and vinegar facilitates the breakdown and neutralisation of odour-causing compounds. Allow this powerful combination to work its magic for a few hours or, ideally, overnight. Finally, vacuum the treated area thoroughly. This method not only eliminates odours but also aids in lifting stubborn stains, leaving your carpet refreshed and revitalised.
How effective are enzymatic cleaners for carpet odour removal?
Enzymatic cleaners have gained widespread popularity for their effectiveness in breaking down organic matter, including pet stains and odours. These cleaners contain enzymes specifically designed to target and digest the molecules responsible for the unpleasant smell. When using enzymatic cleaners, it's crucial to follow the instructions meticulously and allow sufficient time for the enzymes to work their magic.
Apply the enzymatic cleaner to the affected area, ensuring comprehensive coverage, and let it sit for the recommended duration. Enzymatic cleaners yield optimal results when given adequate time to break down the compounds causing the odour. After the specified period, blot the area with a clean cloth to remove excess moisture. The result is not merely a superficial masking of odours but a thorough removal at the molecular level.
When should you call a professional carpet odour removal service?
While DIY methods can prove effective for minor pet odours, certain situations necessitate professional intervention. If you've exhausted various home remedies without success, or if the odour persists despite your best efforts, it may be time to enlist the services of experts. Professional carpet odour removal services boast specialised equipment and solutions designed to tackle even the most stubborn pet odours.
Moreover, if your pet tends to repeat accidents in the same spot, the odour may have permeated deep into the carpet padding or subfloor. In such cases, professional cleaning becomes imperative to ensure complete odour elimination and prevent future reoccurrence.
When should you consider replacing your carpets?
While effective cleaning methods can address many pet odour issues, there comes a point when replacing your carpets becomes a practical consideration. If the odour persists despite professional cleaning, or if your carpets are old and worn, replacement might be the most effective solution. The padding underneath the carpet can retain odours, and in some cases, the fibres may be damaged beyond repair.
Consider replacement if you notice signs of persistent odours or extensive staining, or if your carpets have undergone years of wear and tear. Modern carpets are designed to resist odours and stains more effectively than older versions, making them a worthy investment in the long run.
How can you prevent pet odours from returning to your carpets?
Preventing the return of pet odours involves a combination of regular maintenance and proactive measures. Here are some tips to keep your carpets smelling fresh:
Regular vacuuming:

Incorporate a routine of regularly vacuuming your carpets to eliminate pet hair, dander, and other debris, which can be sources of odours. Consider using a vacuum cleaner

featuring a HEPA vacuum filter

for the best results in maintaining a fresh and clean environment.

Immediate cleanup:

Address pet accidents promptly. Blot the affected area with paper towels to absorb excess moisture, and use an appropriate cleaning solution to eliminate odours.

Air circulation:

Ensure proper air circulation in your home by opening windows and using fans. Fresh air helps prevent odours from lingering.

Professional cleaning:

Schedule professional carpet cleaning at least once a year to deep clean and refresh your carpets. This proactive measure helps prevent the build-up of odours over time.

Pet grooming:

Regular grooming of your pets can significantly reduce shedding and dander, minimising the factors that contribute to carpet odours.
Conclusion
Eliminating pet odours from carpets is indeed possible with the right approach and understanding. Recognising the causes, comprehending the importance of their removal, and employing effective carpet odour removal methods such as baking soda, white vinegar, and enzymatic cleaners can make a substantial difference. In cases where DIY efforts fall short, don't hesitate to seek the expertise of professional carpet odour removal services. And, if the odour persists or your carpets show signs of extensive wear, consider the practicality of replacement. By combining proactive measures, regular maintenance, and informed decision-making, you can create a clean and fresh living environment for both your family and your beloved pets.
Transform your living space with Cosy Group's premium carpets that not only elevate your home's aesthetic appeal but also contribute to a healthier environment. As we've explored in this article, maintaining clean and odour-free carpets is integral to a comfortable home, and Cosy Group is here to provide the solution. Our range of carpets combines style and functionality, designed to resist odours and stains, ensuring a long-lasting freshness that aligns perfectly with your pet-friendly lifestyle. Say goodbye to the worries of persistent pet odours and hello to the luxurious comfort of Cosy Group carpets. Visit our showroom or explore our online collection to discover the perfect blend of elegance and practicality for your home. Embrace a living space where style meets resilience, courtesy of Cosy Group. Contact us today to bring the beauty and freshness of Cosy Group carpets into your home.