What Are The Benefits Of Hiring A Flooring Specialist?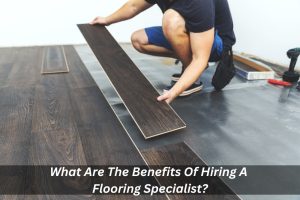 A flooring specialist is an ideal choice for tackling this project if you considering updating the floors in your home or commercial space. But why should you go through the extra cost of hiring a professional?
Floors can be tricky and dangerous to work with and without proper knowledge, tools, and equipment it's impossible to achieve optimal results. Hiring an experienced flooring specialist can be beneficial in a variety of ways, enabling you to get the most out of your investment.
A qualified flooring specialist is trained in every aspect of floor installation, from selecting the materials and preparing the subfloor to lay down the final product. They can also provide valuable guidance on caring for your new flooring once complete. In this article, we'll discuss some of the key advantages of seeking out a professional when it comes time to update your home or business's floors.
Expertise: Flooring specialists are highly trained and experienced in the installation process, meaning they can get the job done quickly and efficiently. They understand the importance of proper preparation and have the right tools to ensure that your floors are installed correctly.
Quality Materials: Professional flooring contractors have access to high-quality materials that may not be available to those who take a DIY route. They also have the expertise to select suitable materials for your space, taking into account factors such as foot traffic and environmental conditions.
Time Savings: Installing floors can be time-consuming, especially if you are unfamiliar with the installation process. Hiring a professional flooring contractor can save you time and energy, allowing you to focus on other tasks while they handle the installation.
Professional Results: With the help of a flooring specialist, you can rest assured that your floors will be installed correctly and look great for years to come. Professional flooring contractors have the experience and expertise to ensure that your floors are installed properly and look their best.
The benefits of hiring a professional flooring contractor are clear. From expert advice on selecting materials to time savings and professional results, it's easy to see why hiring a flooring specialist is the best choice for your project.
Types of flooring a flooring specialist typically work with
A flooring specialist typically works with a variety of different types of flooring materials, including hardwood, laminate, vinyl, tile, and carpet. They are knowledgeable about the different installation processes for each type of material and can provide guidance on which one is best suited to your space. For example, they know what is the best way to install a carpet over tiles. Hardwood flooring is a popular choice due to its durability and classic look. However, other materials such as vinyl and tile can also be used to create beautiful and long-lasting floors. 
How long does a flooring project take when done by a specialist?
The length of a flooring project depends on the type of flooring and the size of the space being worked on. Generally, most projects can be completed in one to two days. However, more complex projects such as hardwood floor installation may take longer due to the time-consuming process of properly preparing the subfloor and laying down the final product. A professional flooring contractor will be able to provide a more accurate timeline for your project.
Qualifications you should look for a flooring specialist
When hiring a flooring specialist, it is important to ensure they have the necessary qualifications (like Certificate III In Flooring Technology) and experience. Look for flooring experts who are certified by the government or other professional organizations. This certification ensures that they have the knowledge and skills to properly install your floors. Additionally, look for contractors who have experience in installing the type of flooring you are looking for, as well as a portfolio of previous projects.
Different types of flooring specialists
There are a variety of different types of flooring specialists, each with their own unique set of skills and expertise. Carpet installers specialize in installing carpets and rugs, while tile installers are experts in laying down ceramic, porcelain, and other tile materials. Hardwood flooring specialists have the knowledge and experience to properly prepare subfloors and lay down hardwood floors for a beautiful and long-lasting finish. Laminate flooring installers are experts in laying down laminate materials, while vinyl flooring specialists are knowledgeable about the installation of vinyl planks and tiles. You may want to check different types of flooring solutions such as carpet flooring, laminate flooring, vinyl flooring, carpet tiles, and hybrid flooring to determine what kind of flooring specialist you will hire.
What sort of cleaning and maintenance tips can flooring specialists provide?
A flooring specialist can provide valuable advice on how to properly clean and maintain your floors. They can recommend the best products for cleaning different types of materials, as well as provide tips on how to spot potential problems before they become major issues. Additionally, they can advise you on the best ways to protect your floors from damage such as scratches and spills.
In conclusion, hiring a professional flooring specialist can provide many benefits. They have the knowledge and experience to properly install your floors, as well as provide valuable advice on how to keep them looking great for years to come. So, don't hesitate to look for a flooring company with the best flooring specialist for your project.