What is Vinyl Flooring?
Vinyl flooring is a type of material that can be used for floors in many different types of buildings. It was invented to serve as an alternative for hardwood, which was not available during World War II. It is often made of polyvinyl chloride (PVC) and other plastics, but it can also be made from natural materials such as cork or bamboo.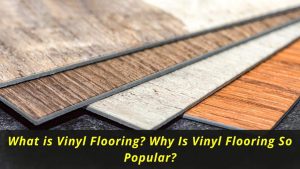 What are the benefits of vinyl flooring?
There are a number of benefits to vinyl flooring, which is why it has become so popular in recent years. Some of the key benefits include:
– Vinyl flooring is easy to clean and requires little maintenance.
– It is durable and long-lasting and can withstand heavy traffic.
– Vinyl flooring is scratch-resistant, making it perfect for families with children or pets.
– It is affordable compared to other types of flooring.
– Vinyl flooring can be installed easily by most people.
What makes vinyl flooring so popular?
Vinyl flooring is made from polyvinyl chloride (PVC). It was first invented in the 1930s and has been popular ever since. The material is also relatively inexpensive, making it a practical choice for homeowners. Vinyl flooring is also easy to maintain and comes in many different styles, colors, textures and patterns so it can be customized to fit any home's decorating needs.
Vinyl flooring is a great and high-quality choice for any room in the home. It can be used for kitchen floors, bathrooms, basements and even bedrooms. The material is waterproof so it's great for bathrooms and kitchens. Vinyl flooring is also easy to clean with a damp mop or sponge. It's important to avoid using chemicals on vinyl floors as they can damage the material, so it's best to clean vinyl floors with warm water and mild soap.
If you're thinking about installing vinyl flooring in your home, there are many different styles available to choose from. Vinyl flooring is available in tiles, planks and even sheets (sheet vinyl). You can also choose from a wide variety of colors that are sure to match your decor. Vinyl flooring is one of the most popular types of flooring available today because it's affordable, durable and easy to install.
Why is vinyl flooring a good choice for families?
When it comes to flooring, there are a lot of factors to consider. Some people might choose vinyl because it's affordable, while others may prefer it because it's easy to clean. Families with pets or children will appreciate the fact that vinyl is durable and resistant to stains and scratches.
Vinyl flooring is available in a variety of colors and styles, so you can find something that suits your taste and matches the rest of your home décor or home improvement. Choice Flooring stores accept postcodes from all over the country, so you can easily find one near you.
How durable is vinyl flooring?
It's no secret that vinyl flooring is a popular choice for many homeowners and businesses. This flooring option is known for its durability, water resistance, and affordability. But just how durable is vinyl flooring?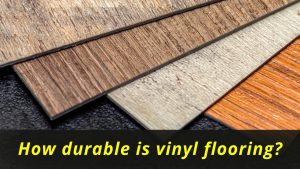 The good news is that vinyl flooring is one of the most durable options on the market. It can withstand heavy foot traffic and everyday wear and tear (wear layer) without showing signs of damage. In fact, vinyl flooring is often chosen for high-traffic areas such as retail stores, schools, and hospitals because it stands up to constant use without fading or wearing down.
Another benefit of vinyl flooring is its water resistance. Vinyl floors are perfect for wet areas such as kitchens and bathrooms, where they will not be damaged by moisture or spills. And if pets are a part of your family, you'll be happy to know that vinyl floors are also pet friendly! They won't scratch or stain easily like some other types of flooring materials.
Finally, vinyl floors are always in style. They come in a variety of colors and designs (colors and patterns) to match any décor scheme, from modern to traditional. Plus, they're easy to clean and maintain so you can keep your home looking fresh year after year
What are the different types of vinyl flooring?
There are many different types of vinyl flooring to choose from. Some of the most popular options include:
Laminate Vinyl Flooring: This type of vinyl flooring is designed to look like natural hardwood, but it is made from synthetic materials. It is a good option for people who want the look of hardwood floors (hardwood flooring) without the high price tag or maintenance requirements.
Vinyl Plank Flooring: Vinyl plank flooring is a type of vinyl floor that looks like real wood planks. It is a good choice for people who want the durability and waterproof properties of vinyl flooring with the appearance of real wood.
Hybrid Vinyl Flooring: Hybrid vinyl flooring combines the best features of both laminate and vinyl plank floors. It is water-resistant, durable, and easy to clean, making it a good choice for kitchens, bathrooms, and other high-traffic areas.
What are the pros and cons of vinyl flooring?
Pros: Vinyl flooring is inexpensive and easy to install. It may be a good choice for first-time homeowners who are on a tight budget or people with allergies.
Cons: It is not as durable or long-lasting as hardwood, tile, and other options. It may start to peel after years of use, and it may become discolored over time.
What are the best places to buy vinyl flooring?
When it comes to vinyl flooring, there are a few things you need to consider before making your purchase. View range is an important consideration when buying flooring; this will determine the quality of vinyl you can select from. Our best sellers are a great option for vinyl flooring, but the View Range may be too low to provide a better price point than other vinyl flooring options.
Another thing to keep in mind is the store you're buying from. Floorward offers a wide range of vinyl flooring, and each store offers help with choosing the best type of vinyl floor around. So whether you're looking for luxury vinyl tiles or plank (luxury vinyl plank) floors, we have something for everyone!
How easy is it to install vinyl flooring?
All vinyl flooring is classified as Class 33 – 42. This means that it can be installed without adhesive, with the exception of "Clic" which requires an exclusive adhesive. The most popular installations are made with Class 55 Loosely and Creation Luxury Vinyl Tile Flooring (luxury vinyl flooring).
The professional installation process is easy to follow and there's only one adhesive required. In addition, vinyl flooring is environmentally friendly. It offers a soft feel and acoustic features for a quieter experience. Vinyl flooring is also suitable for areas that are affected by temperature changes, heavy or low traffic, or underfloor heating required.
What are the maintenance requirements for vinyl flooring?
The maintenance requirements for vinyl flooring are listed in the guide. It's important to keep vinyl flooring clean, so there are no dirt marks on the clear coat finish and you don't have to worry about stains from spills or general wear and tear of the material over time. In addition, make sure that you don't use any harsh chemicals when cleaning your vinyl floors–otherwise, it could damage the surface.