7 Different Types of Carpet For Your Home
Arelia
Arelia is a company that specializes in quality carpets. They have been around since the 1960s and they focus on providing high-quality products to customers all over the world. The company does not only sell carpets but also flooring, linens, and decorative items.
Florian
Florian is a type of carpet that features an intricate design and the use of three different colors. It can be found in many homes today, but it was invented in 1931 by Adolf Schmal.
Boden
Boden is a luxury carpeting company that specializes in hand-knotted, wool carpets and rugs. Boden's focus is on the environment by using environmentally friendly dyes and treatments as well as providing sustainable materials such as wool or recycled cotton.
Boden's products are available in three lines: "Essentials," "Classic Collection" and the "Exclusive Collection." The "Essentials" line is the most affordable, although still a high-quality product. The "Classic Collection" is also fairly priced and has an array of colors and styles to choose from. Boden's "Exclusive Collection" is the most expensive line and offers a wide variety of styles.
Brit
Brit is a type of carpet that has been around for quite some time. This fabric-like material is made up to resemble wool, and it will have the same feel as wool underfoot. The wool is blended with polyester and cotton to create this type of carpet. Brit will be more durable than wool, so it should hold up better over time as well.
Coco – Signature Wool
Coco is a signature wool carpet that has been used in homes for centuries. Coco carpets are made from natural sheep's wool with the finest fibers and can be found in a variety of textures and patterns. The wool is made into long strips which are woven together to create this soft, luxurious carpeting that's breathable, hypoallergenic, and durable.
Dartmoor
Dartmoor is one of the most popular carpets because it has an interesting combination of colors. This carpet can be found in a variety of different patterns, textures, and sizes to suit just about any taste and style.
Farris
Farris is a carpet made from 100% wool, which provides unparalleled warmth and texture. These carpets are resistant to stains as well as able to withstand heavy foot traffic.
How to choose the right carpet for your home
When it comes to choosing the right carpet for your home, there are many factors to consider. Carpet is sold in stores all across Queensland and North New South Wales, so you can easily find something that suits your needs and style.
There are many different types of carpet to choose from, including engineered timber flooring, which is a great option if you're looking for a natural look. Laminate flooring is cost-efficient and offers a wide range of colors and grains, making it perfect for family homes with pets. It's also easy to install in most living areas.
The size of the rug should be determined based on the space where it will be placed – you don't want it to be too small or too big. The color and pattern of your rug should also be considered when choosing a size for your living area.
What are the benefits of each type of carpet?
There are many benefits to choosing a carpet flooring for your home. Carpet can be bought and sold before it is installed, which saves time, money and effort. Additionally, carpeting can be a good investment for a home sale or renovation projects as well as floor plans or photos.
The preferred contact type for this inquiry will vary depending on the preference of the customer. You can contact us for information about our products and we will get back to you as soon as possible.
What are the drawbacks of each type of carpet?
There are a few disadvantages to keep in mind when choosing your new carpet. The first is that it wears out easily and needs to be replaced more often than some other types of flooring. Additionally, carpets can be damaged fairly easily if something heavy is dropped on them or if there is a lot of traffic. Finally, carpets have a relatively low lifetime compared to some other options.
However, there are also several advantages to consider. The carpet is generally quite durable and can withstand a lot of wear and tear. It's also soft underfoot and easy to clean up any stains that may occur. Plus, as an added bonus, carpets can help improve energy efficiency in your home due to their chemical composition.
Which type of carpet is best for high-traffic areas?
When it comes to selecting the best type of carpet flooring for a high-traffic area, there are a few factors to consider. One of the most important is how much foot traffic the area will receive on a daily basis. Heavily trafficked areas will require a carpet that can withstand wear and tear, while also looking great for years to come.
Another factor to consider is whether you want low or high pile carpet. Low pile carpets are less expensive but they also show dirt and footprints more easily. If you have children or pets, it might be wise to choose a higher pile carpet which will hide dirt and stains better.
Finally, take into account the popularity of the color or pattern you select. Certain colors and designs are more popular than others, so you may want to choose one that is likely to remain in style for several years. The staff at [company] can help you make the best decision for your home based on your specific needs and preferences.
Which type of carpet is best for low-traffic areas?
When it comes to carpets, there are many different types that can be chosen for your home. However, when it comes to low traffic areas, a basic carpet is often the best option. This is because these areas typically don't see as much wear and tear as other parts of the house, so you don't need to invest in a more expensive or high-traffic carpet.
Additionally, low traffic areas can benefit from less texture or color variation in order to reduce maintenance costs. Carpet with less variation is also easier to keep clean and look new. So if you're looking for a low-maintenance option, consider choosing a simple type of carpet for your low traffic area.
Which type of carpet is best for pets?
If you're looking for a new carpet and you have pets, it's important to choose one that will be durable and easy to clean. Here are some tips on how to choose the best type of carpet flooring for your pet: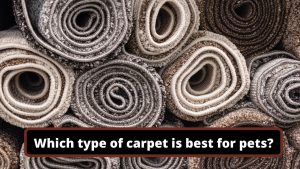 1. Consider the type of pet you have. If you have a small dog or cat, any type of carpet will work. If you have a large dog, however, you'll need a tougher type of carpet that can withstand more wear and tear.
2. Choose a color or pattern that will hide stains well. Pets can be messy, so it's important to choose a carpet that will be easy to clean up accidents. Dark colors or patterns are generally the best choices in this case.
3. Look for a carpet with a low pile height. This will make it easier to vacuum and dust mop your carpets regularly.
4. Choose a synthetic fiber over wool if durability is important to you . Synthetic fibers are more resistant to staining and fading than wool, making them ideal for homes with pets."
Which type of carpet is best for Stain Resistance?
If you're looking for a carpet that is resistant to stains, then View range is the best option. It's soft and looks beautiful in any room of your house, but it also happens to be one of the most stain-resistant carpets.
Which type of carpet is best for durability?
There are a few things you should consider when choosing which type of carpet is best for durability in your home. The first consideration is the material that the carpet is made from. Some materials, like vinyl, are more durable than others. The second consideration is the style of the carpet. A patterned or Berber-style carpet will be more durable than a plush or shag-style carpet.
Finally, you should consider how much traffic the room will get. A high-traffic room will need a more durable type of carpet than a low-traffic room.
Which type of carpet is best for overall comfort?
There are a few factors to consider when choosing the best type of carpet for your home. One of the most important is comfort. Some carpets are softer than others, and can provide more cushioning for your feet.
The View range is a soft and stylish option that many homeowners choose for its comfort and luxurious look. The best sellers in this range are the View and Softer Touch ranges. These carpets are made from high-quality materials, so you can be sure they will last for years.