12 Types of Living Room Flooring (Great Ideas)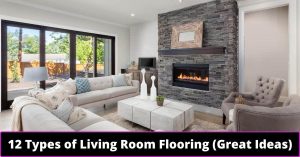 1. Hardwood floors in light, medium, and dark hues
If you're looking for a timeless and luxurious flooring choice, hardwood is a great option. Hardwood floors are available in shades from light to dark, giving you plenty of options for your home's décor. In addition, hardwood floors come with specific size brackets which can be adjusted based on the needs of your home's design.
It comes in a variety of widths and lengths, with the standard length being 25 inches wide by 2.25 inches deep (6 feet). However, one downside to hardwood floors is that they are expensive to install, and require periodic refinishing. Additionally, they add significant resale value for homebuyers – making this investment worth it in the long run!
2. Carpet
Carpets are the most popular choice of flooring for homes. Carpeting offers a warm and inviting element to your home. There are four types of synthetic carpets: nylon, olefin, polyester, and acrylic (wool is not included). Carpet is easy to maintain and energy saving. Carpet can be used as an acoustic sound insulator. Carpeting provides insulation in the winter and summer, but can cause allergies or molding issues.
3. Ceramic Tile
Tile flooring is smooth and requires just a wipe to remove dust. The 12 floor types are:
– Cement tiles
– Marble floors
– Porcelain tile floors
– Slate tile floors
– Terrazzo tile floors
– Wood or laminate plank tiles
4. Concrete
Concrete is a great option for contemporary homes. It's easy to clean and care for, with many different finishes and colors available to choose from. There are budget alternatives to poured concrete floors if you don't want the expense of these options. Rubber flooring is a less expensive but still durable option for contemporary living rooms. Rubber flooring can be laid as tiles and doesn't require the same degree of care that wood or tile would need.
5. Porcelain Tile
Porcelain tile is a durable and long-lasting flooring option that is resistant to scratches, stains, and dirt. It is also easy to clean and requires little maintenance. Porcelain tiles can be found in square, rectangular, triangular and hexagonal shapes. However, they are difficult to cut precisely due to their weight and density.
Therefore, porcelain tile flooring should only be installed by professionals as it is a time consuming process with no simple solutions for achieving professional results.
6. Travertine
Travertine is composed of limestone, which offers a variety of colors. Travertine flooring is organic and earthy in nature, with natural colorings such as golds, tans, browns, and creams.
The old-world flavor adds class to the home decorating style. Flooring is easy to replace and requires a minimal amount of maintenance. Flooring is water and moisture resistant, with an environmentally friendly option for the green-conscious consumer.
7. Marble
Marble flooring is one of the most luxurious and elegant types of living room flooring. Marbles are available in multiple colors and multicolor mixes, which makes them timelessly chic. Marble is a durable type of flooring that can easily be repaired or replaced if damaged. The pros of a rectangle floor are unmatched natural beauty, luxury, and resale value. The cons of a rectangle floor include high maintenance, stains, and cracks.
If you want to enjoy all the benefits of marble but don't want to worry about the potential downsides, consider opting for a triangle or mosaic cut instead – this will minimize the risk of damage and make cleaning much easier too!
8. Vinyl
Vinyl is a low-maintenance, water-resistant, and scratch-resistant material. Vinyl can be care for with just a damp mop or cloth. Vinyl has enough flexibility to withstand foot traffic but still be easy on the feet of older adults. Vinyl flooring is affordable and durable. Vinyl floors can be installed by a homeowner or contractor with little to no expertise, making it accessible for all.
9. Slate
Slate is a type of stone that is typically used for flooring. It is a popular choice because it is relatively easy to maintain and affordable. Additionally, slate provides a durable surface that is resistant to cracks and stains, with the ability to last for 50 years or more. Ungauged slate is a natural, earthy material that can add significant character to any room.
Slates are naturally slip-resistant and stain-resistant, making them a great option for high-traffic areas. Finally, slates add significant resale value to homes because of their unique appearance and durability characteristics.
10. Bamboo
Bamboo has many benefits as a flooring material. It is an environmentally friendly, sustainable, and renewable resource. You can find different types of bamboo for flooring purposes in a variety of colors and textures. Strand-woven bamboo has a natural pattern that allows it to last longer. Carbonized bamboo dyes have a darker hue, which is not seen in the natural light version.
Bamboo is also anti-microbial, so it is a good option if you have allergies or pets. Bamboo is a natural flooring option that is eco-friendly, sustainable, and adds resale value to your home. However, there are some cons to using bamboo as flooring including the risk of water damage as well as inferior quality bamboo which will show scratches more easily than top quality bamboo
11. Painted wood
When it comes to flooring, stencils can be a great way to add some interest without much cost. For painted wood floors, there are endless creative options available that will make your home unique. Low maintenance and endless creative options makes this an appealing option. However, this does require retouching, so it is low work if you want something that's constantly changing.
12. Linoleum
Linoleum flooring is available in an abundance of colors, textures and patterns. It is also water resistant and eco-friendly. Linoleum comes in two basic forms; linoleum tiles or floating linoleum squares. Linoleum flooring is easy and mess-free to install. It is a great option for DIYers. Linoleum is a relatively inexpensive and durable flooring option that requires periodic sealing.
What is the best type of flooring for a living room?
Tile is the best type of flooring for a living room flooring because it is durable and easy to clean. Carpet is a good choice for its softness and warmth, while wood floors are a great investment that will age nicely without much maintenance needed. Natural stone is luxurious but requires regular maintenance, and laminate flooring offers the best balance of durability, aesthetics and affordability.
What is the most durable type of flooring for a living room?
The most durable type of flooring for a living room flooring is porcelain. It is more resistant to scratches and stains than other materials, such as natural stone. If you have pets or children, porcelain is a good option, since it is easy to clean and maintain.
Another durable flooring material for a living room is natural stone. It withstands high traffic and can last for many years with proper care. However, it can be difficult to keep clean if there are spills or accidents.
Wooden floors are also a good choice for living rooms. They can be refinished if they become scratched or damaged, making them hard wearing with daily foot traffic and company coming and going into the home. Not all flooring is made for living rooms, so make sure that the type of floor you choose is specified for the room you're buying it for.
Engineered wood plank floors are durable and great for living rooms with open-plan spaces. They add a touch of beauty, texture, interest and comfort to the flooring in an open-plan space.