Reasons to choose Carpet tile  
Carpet tile is an ideal choice for many homeowners. It has a wide range of uses, provides excellent value, and stands up to years of wear and tear. Some of the benefits of carpet tile are 
Easy Installation: Installing carpet tiles is extremely easy, and they usually come with pre-applied adhesive and peel-and-stick backings, making it easy to do half the work. By installing carpet tiles we can avoid hiring a professional and save a lot of money. Residential carpet tiles can be used as flooring for entire rooms or as rugs, entry mats, hallway runners, or anything else.

Highly Durable: These carpet types are designed to last a long time and can be relied on to get the job done when other carpet types have worn out. Since most carpet tile is made for high traffic commercial use, it is heavy-duty and long-lasting. Low-pile fibres in heavy-duty carpet tiles avoid crushing and matting, allowing them to last longer and look fantastic for years to come

Low Maintenance: Regular vacuuming is the simplest method to maintain the carpet's appearance daily, as their low pile usually means they collect less dirt. In case if there are really bad stains to deal with, it is even possible to pop out a tile or two, clean them completely, then reinstall them in their place.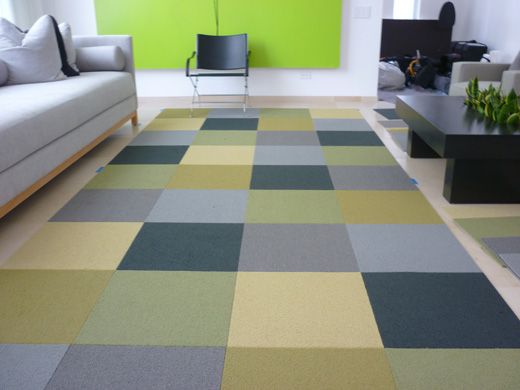 Is carpet tile cost-effective?                        
The carpet tiles are extremely cost-effective, since maintenance is minimal, and installation can easily be done by yourself. Thus, it saves on the cost of the carpet cushion, delivery and labour, making carpet tiles less costly than broadloom carpet once everything is factored in. ​A carpet tile floor is a practical flooring solution that is low-cost and practical when you need to cover a large area in commercial and residential areas
How do carpet tiles make your floor superior?
If you're looking to make your home look cleaner and fresher without having to do a complete overhaul of the floors, carpet tiles are a great option to consider. Carpet tile makes the floor superior cause of the following reasons
Provide superior comfort.

They have attractive acoustics.

They have thermal qualities.

 

Provide greater safety.

Carpet tiles are easy to install. You can use double-sided carpet tape or an adhesive.

You can do it yourself and save money by not needing a professional.

Carpet tiles are superior in durability.

Can withstand heavy foot traffic.

Can handle wear and tear as well as a lot of abuse.

Eco-friendly flooring option, made from recycled material.

You can mix and match modular carpet tiles to create unique designs of your own.

.

They don't absorb water.
Where can I buy Floor carpet tiles in Sydney?
In Sydney, Cosy Group brand of Carpet Tiles is a dynamic Australian owned brand supplying modern, high-quality carpet tiles to the professional and commercial sectors of Australia. Cosy Group ensures manufacturing quality, the careful selection of materials, and long-lasting colours and strength.