How to Get Rid of Black Mould on Carpets and Wood Floors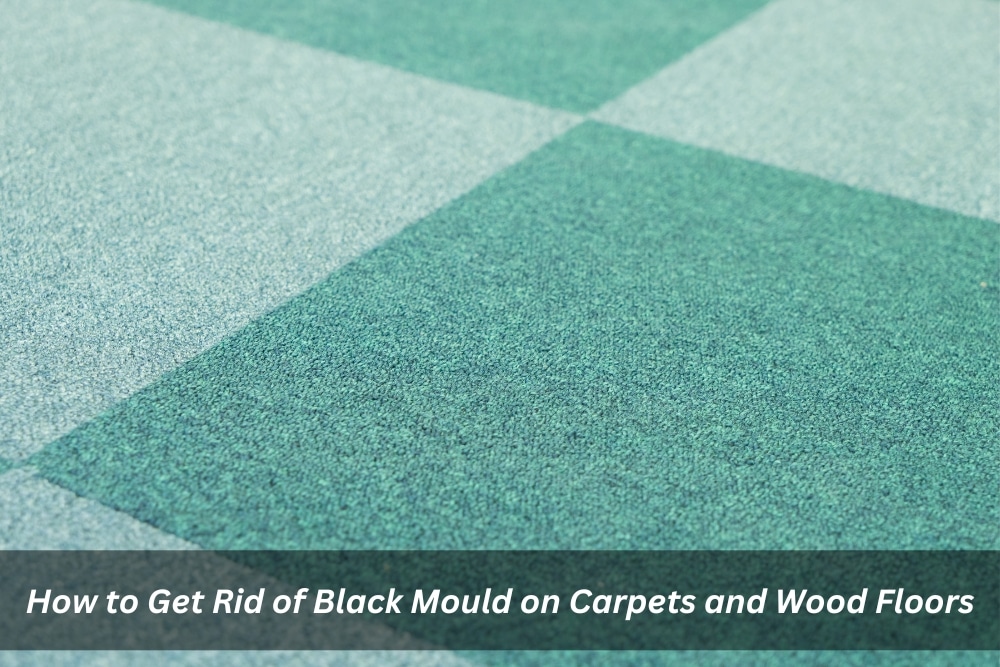 Are you struggling with black mould under your carpet or on your wood floors? Not only is it unsightly, but it can also pose serious health issues to you and your family. Black mould is a type of fungus that thrives in damp and humid environments, making it a common problem in areas like bathrooms, basements, and even carpets. In this blog post, we will be discussing effective ways to get rid of black mould in carpeting and wood floors to ensure a clean and healthy home environment. So, let's dive in and learn how to tackle this pesky problem!
How can the source of black mould under the carpet and wood floors be identified?
Identifying the source of a black mould under carpet and wood floors can be challenging, but there are several steps you can take to investigate and determine the cause. Here's a guide to help you identify the source of black mould:
Visual inspection:

Carefully examine the affected area for any visible signs of mould growth. Look for black or dark green patches on the carpet, wood, or surrounding materials. Pay attention to areas where moisture is likely to accumulate, such as near windows, pipes, or areas prone to leaks.
Musty odour:

Mould often emits a distinct musty smell. If you notice a strong, unpleasant odour coming from the affected area, it may indicate the presence of mould.
Water sources:

Determine if there are any potential water sources contributing to mould growth. Check for plumbing leaks, roof leaks, condensation, or any previous water damage in the vicinity. Even minor leaks or elevated humidity levels can create an environment conducive to mould growth.
History of moisture issues:

Inquire about any past incidents of water damage or moisture problems in the building. If there have been previous instances, it increases the likelihood of mould growth.
Dampness and humidity:

Assess the moisture levels in the affected area. High humidity and excessive moisture can promote mould growth.

Use a moisture meter for walls

to measure the moisture content of the carpet, wood, or adjacent materials. Elevated readings indicate a potential moisture problem.
Subfloor inspection:

Lift a corner of the carpet or remove a floorboard to examine the condition of the subfloor underneath. Look for visible signs of mould growth, water stains, or rotting wood. Moisture trapped beneath the flooring can lead to mould growth.
Professional inspection:

If you're unable to identify the source or extent of the mould growth, consider hiring a professional mould inspector. They have specialised tools and expertise to detect hidden mould, assess moisture levels, and provide a detailed analysis of the situation.
Remember, mould growth is a serious issue that requires proper remediation to ensure a safe and healthy environment. If you confirm the presence of black mould, it is advisable to consult with a professional mould remediation company to address the problem effectively.
What are the steps for removing black mould?
If you have discovered black mould in your home, it's essential to address the issue as soon as possible to prevent it from spreading and causing health problems. Here are the steps for removing black mould:
Identify the mould problem:

Inspect your home thoroughly to locate any signs of mould growth. Check areas that are prone to moisture, such as the bathroom, kitchen, and basement. Look for surface mould on walls, ceilings, and floors, and check under carpets for black mould under carpet.
Protect yourself:

Wear protective gear, including a mask, gloves, and goggles, before attempting to remove mould. This will help prevent mould spores from entering your lungs and causing respiratory problems.
Remove mould from carpet:

If you find black mould on carpets, it's best to get professional carpet cleaners to remove mould from the carpet. If you choose to do it yourself, first dry the carpet using fans and dehumidifiers. Then, use a spray bottle with a mixture of water and vinegar to kill any mould growth.
Remove mould on wood:

Use a brush to scrub the affected area with a mixture of water and detergent. Then, rinse the area with clean water and dry it thoroughly.
Dispose of mouldy materials:

Any materials that have mould growth should be disposed of properly. Seal them in plastic bags before disposing of them to prevent mould spores from spreading.
Prevent mould growth:

After removing black mould, it's important to prevent mould from growing again. Keep your home well-ventilated, repair any leaks or water damage promptly, and clean and dry any wet surfaces immediately.
In summary, removing black mould can be a daunting task, but following these steps can help you remove mould safely and effectively. Remember to protect yourself and dispose of mouldy materials properly to prevent further mould growth.
What are the prevention tips to avoid future mould growth under carpets and wood floors?
Regularly check for moisture:

Inspect the area regularly for any signs of moisture or dampness. If there is standing water, use fans and dehumidifiers to dry it up quickly. Consider installing a waterproof sealant on the floor to prevent future problems with moisture.
Control humidity levels:

Maintain an appropriate humidity level in your home to discourage mould growth. Ideally, indoor humidity should be between 30-50%. Use a hygrometer to measure relative humidity, and install a humidifier or dehumidifier as needed.
Clean carpets regularly:

Vacuum carpets and rugs regularly to remove dust and other debris that can accumulate over time and become a breeding ground for mould spores.
Replace worn carpet padding:

If your carpets are older, consider replacing the padding underneath them as it can become a breeding ground for mould and mildew.
Use mould-resistant products:

When purchasing new flooring and carpeting materials, look for those with anti-microbial or mould-resistant properties to help prevent future issues with black mould growth.
Use protective gear:

Before handling the affected area, make sure to wear protective gear such as gloves, goggles, and a face mask. This will help to protect you from any mould spores that may be present in the air.
Ventilate the area:

Open up windows and doors to allow for proper ventilation when cleaning up or removing affected materials. This will help to reduce airborne spores and keep the area free from any further mould growth.
Keep items off the floor:

Whenever possible, try to keep items off of your floors so that they can properly dry out and not become a breeding ground for mould spores. It is also a good idea to avoid storing things near walls that might become damp or wet.
Conclusion
Overall, black mould is a serious issue that requires proper remediation to ensure a safe and healthy environment. To remove black mould, you will need to remove any affected materials and clean the area thoroughly. Use a dehumidifier to reduce humidity levels, and make sure to keep the area clean and dry in order to prevent future growth. If possible, use mould-resistant products when purchasing new flooring or carpets, and wear protective gear when handling any potentially hazardous materials. Finally, be sure to ventilate the area properly in order to keep it free from airborne spores.
We understand how important it is for you to take care of your home and keep it safe and healthy. If you are dealing with a black mould problem, make sure to get help from the experts at Cosy Group. We provide high-quality carpet tiles for home, commercial, and industrial applications. Call us today to learn more about our services and to get started on the process of keeping your home mould-free.